Announcing the Winners of the Lucy Fan Art Contest!
on
August 24, 2015
at
12:17 pm
As summer closes out, so does the first ever Lucy Fan Art Contest. As this is the very first, I didn't expect much of a turnout, and I was correct for the most part, as there were only four entries. I'm not disappointed, however, because each entry was fantastic in it's own right and well deserving of a prize. So let's show them off now!
Winner #1: Eric Toner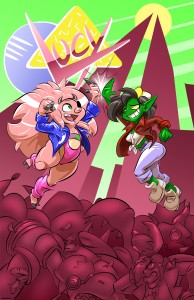 Eric kicks the contest off with a hilarious but very cool 80s-themed piece. I absolutely love the colors in this, as well as Lucy's outfit! The bad guys piled at the bottom were a nice touch too.
Winner #2: JJLG
The only one of our contestants to make TWO entries, JJ creates two cool scenarios in the style of the comic. I like his use of action words in these, as well as the sense of motion he adds to the linework. Also, one of them has a video game reference! Can you guess which one?
Winner #3: Justin Durden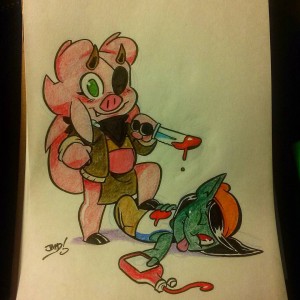 This is probably the cutest entry of the four! It's like a cute prank that a kid would play. Lucy and Glenda have a very kid-like quality to them here.
Winner #4: Syncope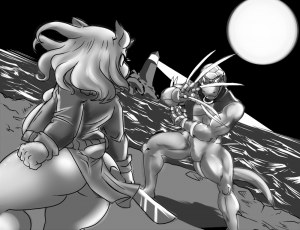 Our final entry, Syncope chooses to make his own interpretation of a scene in Order of the Scale, and it's great! It's very well composed and I especially like the poses and soft lighting.
What comes now is that I need to begin getting the prizes produced and shipped out the door! If you're one of the entries I mentioned, I will send a message asking for shipping info soon. If you're disappointed about not entering, don't be! You may get another chance next year!