As summer closes out, so does the first ever Lucy Fan Art Contest. As this is the very first, I didn't expect much of a turnout, and I was correct for the most part, as there were only four entries. I'm not disappointed, however, because each entry was fantastic in it's own right and well deserving of a prize. So let's show them off now!
Winner #1: Eric Toner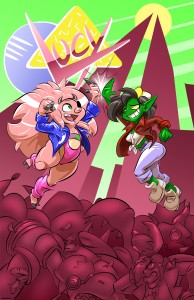 Eric kicks the contest off with a hilarious but very cool 80s-themed piece. I absolutely love the colors in this, as well as Lucy's outfit! The bad guys piled at the bottom were a nice touch too.
Winner #2: JJLG
The only one of our contestants to make TWO entries, JJ creates two cool scenarios in the style of the comic. I like his use of action words in these, as well as the sense of motion he adds to the linework. Also, one of them has a video game reference! Can you guess which one?
Winner #3: Justin Durden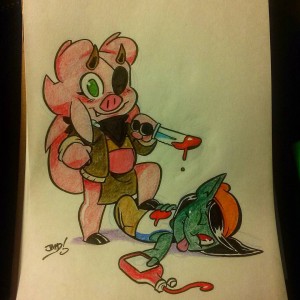 This is probably the cutest entry of the four! It's like a cute prank that a kid would play. Lucy and Glenda have a very kid-like quality to them here.
Winner #4: Syncope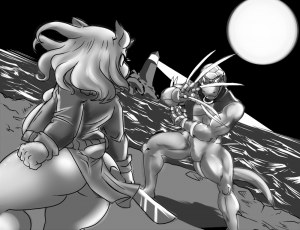 Our final entry, Syncope chooses to make his own interpretation of a scene in Order of the Scale, and it's great! It's very well composed and I especially like the poses and soft lighting.
What comes now is that I need to begin getting the prizes produced and shipped out the door! If you're one of the entries I mentioned, I will send a message asking for shipping info soon. If you're disappointed about not entering, don't be! You may get another chance next year!
If you've ever wanted to get some sweet Lucy merch, now's your chance! Be one of the five winners, and it's all yours! (Yes, even if you don't live in the U.S.!)
So what do you have to do? Simple! Just make a piece of Lucy fanart. Could be a depiction of a scene or character you like, a "what-if" scenario, or something completely off-the-wall! The only rules are that it must be a visual medium, it must feature only characters appearing in Lucy, and it must be work safe. Everything else is entirely up to you.
But then what? When you post your artwork, whether on an art site, Twitter, or Tumblr, be sure to use the tag #lucycomic (and if you want to make double sure I see it, be sure to send it to me via message on said site). I will be on the lookout for any new posts on the subject, and add all entries in a list on the comic page.
The deadline is August 21, 2015. Judging and ultimately announcing the top 5 entries will occur after said date. Winners will be expected to provide shipping details.
ENTRIES:
1. Eric Toner
So, I've been thinking about having Lucy translating into another language for a while. Since Spanish seems to be the second-most spoken language among readers, I figured it may be a good place to start.
You can find the Spanish version of Lucy via button at the top menu.
Puede encontrar la versión española de Lucy a través del botón en el menú de arriba.
(function(i,s,o,g,r,a,m){i['GoogleAnalyticsObject']=r;i[r]=i[r]||function(){ (i[r].q=i[r].q||[]).push(arguments)},i[r].l=1*new Date();a=s.createElement(o), m=s.getElementsByTagName(o)[0];a.async=1;a.src=g;m.parentNode.insertBefore(a,m) })(window,document,'script','https://www.google-analytics.com/analytics.js','ga'); ga('create', 'UA-47458785-2', 'auto'); ga('send', 'pageview');